OPTRONICS
By combining our opto-mechanical and electronic skills, we make fully-qualified optronic (electro-optical) products on request.
.
Bertin Winlight makes onboard optronic (electro-optical) systems based on customer specifications and in compliance with all standards and qualification requirements. For each project we form a team comprising optical, mechanical, electronic and computer experts to integrate all platform interface requirements, along with the available ancillaries and desired outputs.
We call on our own production capabilities to develop product designs that integrate manufacturing and alignment requirements, along with maintenance in extreme environments (even cryogenic operation). All of our products are developed, produced, aligned and qualified in-house.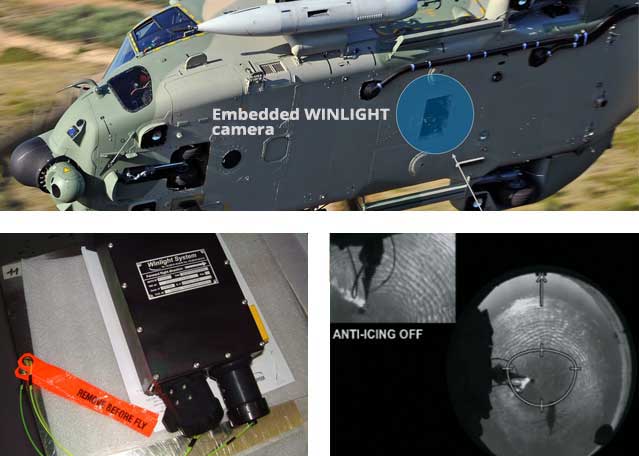 ONBOARD OPTRONICS
The Sling Load Camera (SLC), used on the NH90 military helicopter from NHIndustries, provides a 180° view of the space under the helicopter, while also monitoring the payload position in the predefined security zone. Designed to operate in extreme environments, the SLC system is hermetically sealed, qualified for electromagnetic compatibility (EMC), tested using a shaker for helicopter operations, and operational in just a few seconds thanks to its deicing system. The design and weight are optimized for installation next to the cargo hook, reflecting Bertin Winlight's ability to supply a turnkey system as tier-1 supplier, including full through-life support.
HARDENED OPTICAL SUBSYSTEMS
Bertin Winlight makes hardened lenses and optical subsystems for major customers, covering the visible, Short-Wave Infrared (SWIR), the Mid-Wave Infrared (MWIR) and the Long-Wave Infrared bandwidths. Drawing on our long experience with ITAR-free equipment, we produce our optics in-house to guarantee system quality.
We cover the entire development, qualification and production process, including prototypes.
All systems are wholly assembled, inspected and tested in-house (MTF for example).